Jurong Bird Park Attractions and Shows
April 5, 2020
Jurong Bird Park Attractions are Asia's Largest Bird Paradise in Singapore. All the attractions and bird shows are having good review especially the High Flyers and the Kings Of The Skies. You must visit Jurong Bird Park when visiting Singapore.
Jurong Bird Park is located in the western part of Singapore, which covers a total area of ​​20.2 hectares. It is known to be the largest bird park in Asia, with more than 400 species of more than 5000 birds. Therefore, it becomes a hot attraction for tourists from all over the world. The landscape allows visitors to explore the nature and magical world of birds.
Getting Here:
By MRT, align at Boon Lay  Station(East-West Line), and take public bus no.194
Operating Hour:
0830 to 1800
Jurong Bird Park Attractions
The first visit is to the Penguin Coast, which just right beside the entrance of Jurong Bird Park. At Penguin Coast, take a look at the Antarctic penguins and watch their play and roam in the water. The indoor temperatures are kept at 10-15 Degree Celsius, and exhibit features the king penguin, Humboldt, macaroni and rockhopper species.
In the outdoor exhibition area, you can also see their tropical relatives, African penguins. Besides that, you can take part in penguin feeding activities to get up-close interaction with the penguin.
Jurong Bird Park Shows
Next Jurong Brid Park Attractions you should not miss is The Pool Amphitheatre which has High Flyer Show twice session daily which is 11 AM and 3 PM. From here, the birds showcase their natural talents, breathtaking plumage and smart IQ. As a finale, witness the birds swoop onto centre stage, a high-flying symphony of sounds and energy.
Jurong Bird Park Wetlands
In the wetlands zone, you can found out many types of birds such a black-faced spoonbill, hammerkop, Peruvian pelican, roseate spoonbill and scarlet ibis.
Wetland is essential to the ecological as it provides clean water and raw material. Visit Jurong Bird Park will let you an opening eye of various bird species that live in the wetland.
Birds of Prey
Next visit spot will be hornbills and toucans. There is the sum of 19 hornbill species in Jurong Bird Park, and proudly to say Jurong Bird Park is the first succeed to breed the black hornbill under human care.
Hornbills and toucans have the same diet but they adapt to the environment differently. Both species have difference beak and colour of plumage.
Birds of Prey zone are feature with birds with sharp, hook beak and large penetrating eyes. Some of the animals that can be observed from this area are African white-backed vulture, hooded vulture, as well as Philippine eagle.
Lory Loft
The Lory Loft zone is one of the walks in flight aviaries that like a bowl-shaped valley. It also homes to over 10 species of lories.
Waterfall Aviary
Waterfall Aviary is one of the largest walk-in birdhouses in the world, with more than 600 birds and a 35meters high waterfall that should not be missed. Walking across the suspended bridge to enjoy the panoramic view of the surrounding landscape.
Parrot Paradise
In Jurong Bird Park, there is a Parrot Paradise that has threatened and endangered species and being taken good care at here. Appreciate to have the chance to look at this variety species of parrot is really precious.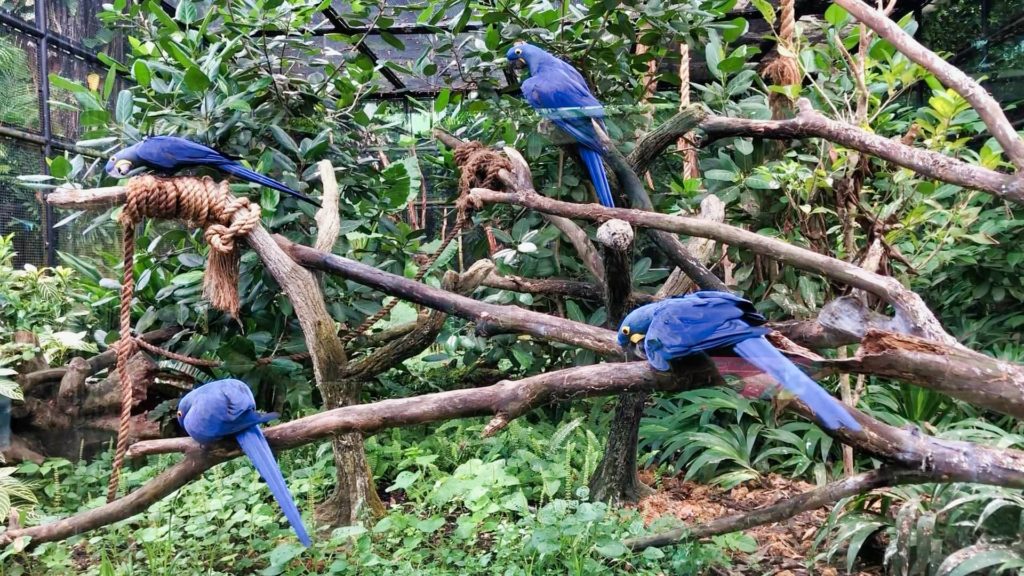 Pelican Cove
Following attractions is Swan Lake, where you can watch the swans glide surrounding the lake. Swan has a longer neck than geese wit high flexible allow them to feed deep under the surface. The nearby Pelican Cove is home to the world 's most diverse pelicans such as American white, African pink backed and Australian Pelican. Pelican has a broad pouch that able to hold up to 13 Liters water, a significant characteristic to identify Pelican.
Flamingo Lake
Lastly, in Flamingo Lake is accommodate with overall white with red feather's flamingo, while in the Flamingo Pool houses pink color flamingo.
Jurong Bird Park Attractions For Kids
Birdz of Play no deny is the favourite spot for children that offer both wet and dry play zones. These bird-themed playground facilities are designed for children of all ages. In the land playground, there are numerous games for children such as flying foxes, seesaws, swings and slides. On the other hand, in the wet zone, children can pay water gun games.
You May Also Like
December 6, 2019
September 20, 2020
September 11, 2021