Singapore Local Breakfast – Heap Seng Leong
November 22, 2020
Singapore local breakfast is a good choice to kickstart a day when visiting Singapore. Varieties of Singapore local breakfast around this Singapore small island. Heap Seng Leong is a favorite traditional breakfast by many Singaporean.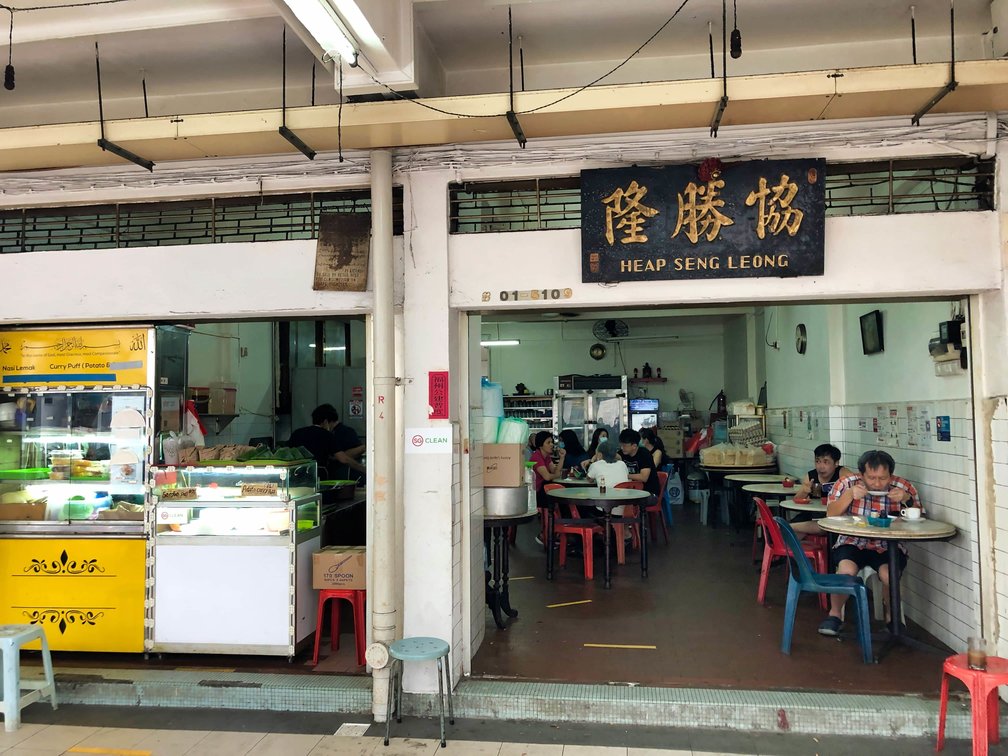 Heap Seng Leong Local Breakfast
The Heap Seng Leong coffee shop has only two stalls in the shop. The first shop is the "kopi" stall run by two very old uncles. This stall serves drinks, bread and eggs. Another shop run by Malay which serves nasi lemak, "kuehs" and curry puff. This definitely a stop to try the Singapore local breakfast.
Ordering the Local Breakfast
There are not many seats available in the coffees. As long there is a vacant seat, just proceed yourself and sit down. The uncles will not bring you to seats as they are quite busy preparing breakfast. Whenever they serve the foods on other tables, you might ask them to clean up the previous customer cup.
After that, you can proceed to order with the uncle. I not sure do the uncle remember my orders. After some time, I saw a customer after my turn collects the bread and coffee themselves. I also approach the uncle again and collect. While sometimes the uncle serves the breakfast foods to the customer table.
You may just collect yourself if waited too long and confirm your order one more time with the uncle. While eating my local breakfast, I thought uncle forget my half-boiled egg. In the end, he still sent my half-boiled egg.
As a conclusion, whenever a customer approaches the uncle he will just pass the foods to you without considering the order sequence.
Must-try drink kopi "Gu You" known as butter coffee.
Malay Breakfast
The Malay stall has pre-cook food like nasi lemak, nasi sotong sambal, fry chicken rice, "kuehs" and the curry puff for breakfast.
The curry puff has two fillings: curry potato or sardine.  However, the curry puff will only ready at 9am in the morning. The sardine puff and curry puff are really delicious and hot.
Curry Potato Puff
Sardine Puff
Singapore Local Breakfast Pricing:
4 drinks, 4 pieces of bread and 8 half boiled egg – $11.60
Nasi lemak – $3.00
Nasi sotong sambal – $4.00
2 Curry Puff and 2 Sardine Puff – $ 4.40
Heap Seng Leong Operating Hour:
Daily 5am – 6pm
Address: 10 North Bridge Rd, #01-5109, Singapore 190010
You May Also Like
November 23, 2019
April 5, 2020
November 18, 2019